Printer Power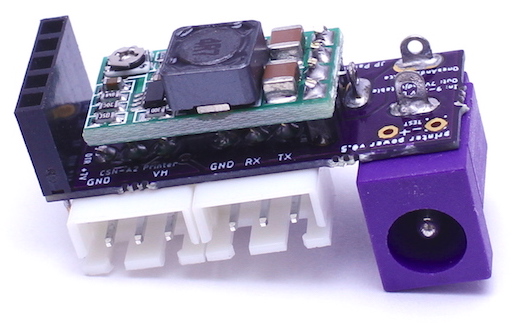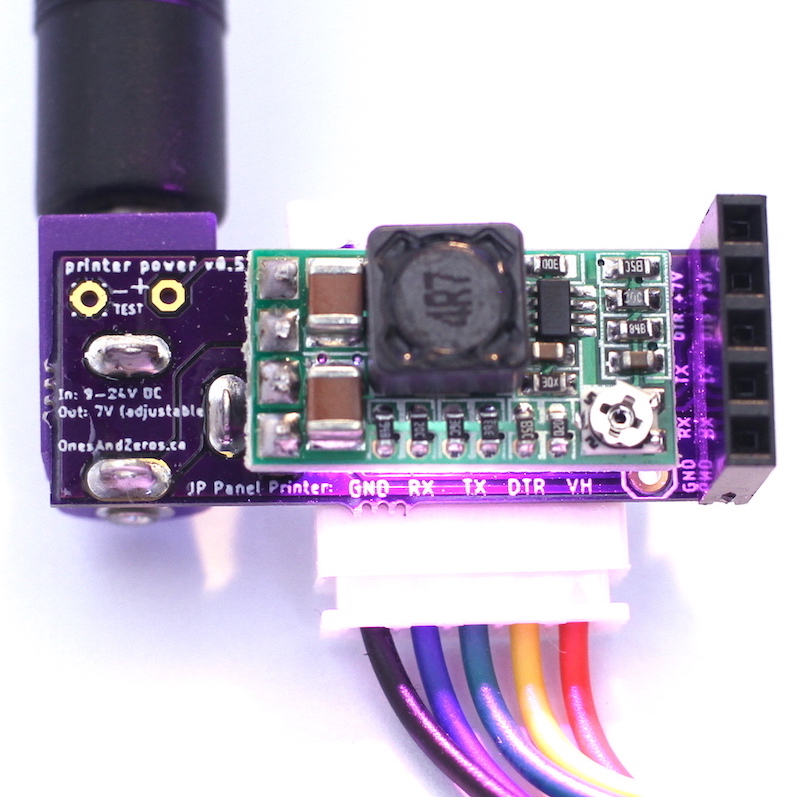 Makes thermal printers work better! If you have a printer from eg. Adafruit or SparkFun, this is for you! It solves your power problems :)
What is it?
It's a DC-DC converter that works with 9–24v power adapters. The power connector is a 2.1mm barrel jack, same as Arduino, and the printer connections support both 5-pin and 2x3-pin JST connectors.
Why did you make it?
I teach workshops with thermal printers, make a lot of art with thermal printers, help other folks make stuff with thermal printers, and it is really very hard to find power supplies good enough to work well with thermal printers!
What makes it special?
Printer Power can source enough current to print dark black images edge-to-edge!

It works with most higher voltage adapters you have lying around from old devices like modems, routers, and laptops (we <3 recycling!).

tiny, purple, pink, and glowy ✨
Features
2.1mm barrel jack power input (just like Arduino) 9–24v.
A screw terminal adapter for the barrel jack (use any power adapter that doesn't already have a 2.1mm tip).
7v power output (adjustable!) for your printer.
Works with both 5-pin and 2x 3-pin JST connector printers.
Everything is broken out to a 5-pin female jumper header for easy hook-up: GND; serial RX and TX; DTR (for 5-pin printers); printer VH (same 7v powering the printer)
Printers we've tested:
CSN-A2 "Mini Thermal Receipt Printer" sold by Adafruit & Sparkfun (both old and new versions)
Adafuit Nano Thermal Receipt Printer
JP Panel Printer (low-cost Chinese versions)
Printers that don't work out of the box:
Adafruit Thermal Printer "Guts": has a different pinout, and requires a small modification to the 5-pin cable. Guide coming soon!
---
Sign up for our mailing list for workshop announcements
Unfortunately our mailing list has closed. You can still get in touch by email or social.